You've heard the horror stories, "I paid a guy to create a website for me and then he just disappeared. I don't know how to change anything, I'm getting spam mail, and I don't know if the website is even helping my business."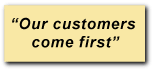 Those stories just make us cringe. Our customers come first and we ensure they are fully protected, trained, supported, and informed. We treat your business like it is ours – reflective of your professionalism and a means to support the fun things you want to do.
Each website is designed to maximize the user experience, functionality, security, and search engine optimization. We take building your web presence and your business seriously.
Give us a call and together we'll explore your options!